Two Companies for your Watchlist in March
How dividend investors can push their income in times of corona fears
The internet has made it easier than ever for investors to increase their assets through smart investments. The prerequisite for this, however, is, on the one hand, to have capital available at all to put it on the market. This can be done by expanding existing assets or by opening a new position. The second prerequisite is to carry out careful due diligence. With this article, I would like to offer investors two ideas for their watchlist (click here for my February proposals).
Corona changed all and nothing
Of course, one cannot write an article about stocks and investments at the moment without mentioning the corona shock that has put pressure on the markets and the global economy. On top of that, there is now an oil dispute between Saudi Arabia and Russia. All the uncertainty and real political and economic consequences this has created will continue to determine the ups and downs of stock markets worldwide in the short and medium-term. It is particularly important now to remain calm and not to panic. In past articles on Finhaven.club, I have described in detail the strategy that best suits me and many other investors. All in all, the following can be said:
it is noticeable that many investors are beginning to panic. Many have sold their stocks last week in the expectation that the downward trend will continue. But in doing so, they are committing the very mistake that I described in more detail here last week (click here).
Furthermore, I stated in the same article that
investing sometimes also means suffering. And many investors seem to be going through such a time of suffering at the moment. It is a fact that panic is an extremely bad advisor. Instead, investors should look at their investments rationally and ask themselves whether the original investment thesis still holds true or not. If nothing fundamental has changed for an individual company, then a sale of shares could be very detrimental. Nevertheless, it is difficult to remain calm in such situations. Investors should therefore rather see the situation as an opportunity to travel back in time. They can buy shares of some companies at a price they could have bought only a few months or even years ago.
That said, I do not want to withhold from concerned investors an interesting chart I found on the Internet: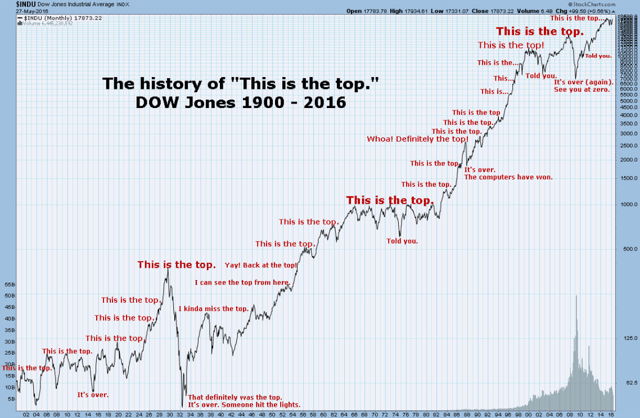 Source: The history of "This is the top"
So yes, things will pick up again eventually. But it could be worse before that than it is now. In the meantime, however, investors have the opportunity to invest in companies that for a long time seemed too expensive and have now returned to more favorable valuations or that can otherwise offer value. Accordingly, I would like to make two recommendations for your Watchlist. One is a genuine dividend aristocrat and the other is a luxury clothing company with an excellent dividend yield.
Leggett & Platt
Leggett & Platt (NYSE:LEG) is a dividend aristocrat that has increased its dividend at least once a year for 47 years. The company designs, and produces a diverse array of products that can be found in most homes, offices, and vehicles. Like the market as a whole, the share price has fallen sharply and is currently as high as it was in 2014.
The company is very broadly diversified and active in many industries. In terms of revenue, the Bedding division accounts for the largest share. At 46 percent, it accounts for almost half of total sales.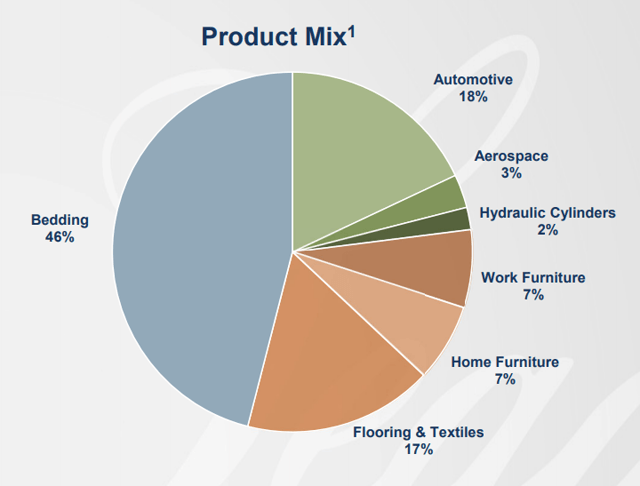 Source: Product Portfolio
The business itself is to a large extent rather conservative and defensive. More than half of the products are produced for consumer goods. This gives the business certain stability, while other areas such as automation are more cyclical. However, investors have to take into account is that the broad customer base of the company is mainly other manufacturers and not the consumers themselves. The company is also mainly active in the USA. Of course, this has advantages and disadvantages. The biggest disadvantage is the fact that in economically weak years, consumers also cut back on their spending and Legget & Platt can suffer as a result. In such a scenario, growth in other countries would not compensate for such developments. Conversely, the world is now so globalized that an economic recession in America would also hurt other nations and economies.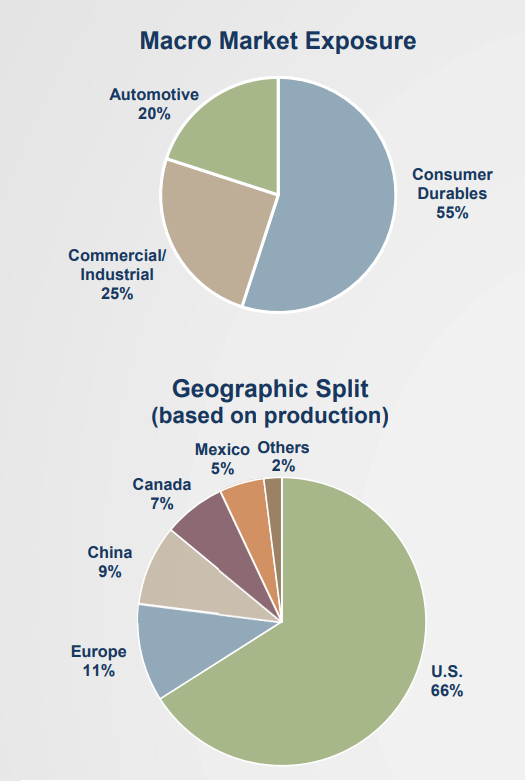 Source: Macro Market Exposure & Geographic Split
The development of revenue in recent years was okay. The company has gradually managed to meet its target. However, the margin has deteriorated as a result. This shows that the company has grown at the expense of profitability. The margin shrinkage is not significant, but Leggett & Platt must address this to an even greater extent in the future.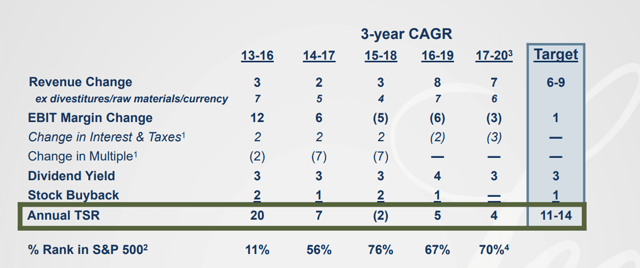 Source: Macro Market Exposure & Geographic Split
In fundamental terms, the picture has nevertheless improved dramatically. In my view, the company was valued far too high before the corona crisis broke out. With a P/E ratio of well over 20 and historically low dividend yield, Leggett & Platt offered little value for investors. Now, however, the P/E ratio is below 15 and the company is even valued at 12.7 concerning the future P/E ratio.
In this respect, some crisis has already been factored into the price. Such a valuation for a dividend aristocrat, therefore, invest quite interesting. This has a particular impact on the dividend yield. Cash flow-oriented investors, in particular, are seeing a current yield of 4.38 percent. Historically, the yield has only been higher on average in 2010 and 2011.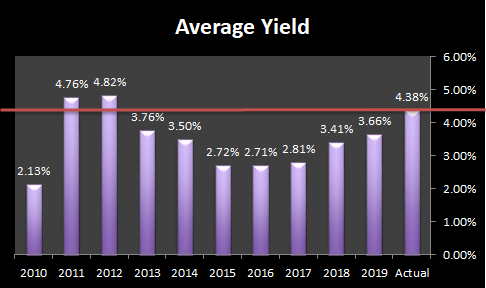 Source: Annual payout growth (Yoy)/table by author
However, annual dividend increases are falling. Furthermore, I do not expect above-average increases in the coming years.


Source: Annual payout growth (YoY)/table by author
On the one hand, the corona crisis will probably harm profit. Furthermore, the company is also interested in reducing its indebtedness. The debt to adjusted EBITDA ratio was almost 3 at the End of the fiscal year 2019. The company wants to reduce its debt to a ratio of 2.5 by the end of the fiscal year 2020. However, the current payout ratio of just under 64 percent ensures that the dividend is fairly secure and that at least minor increases are also possible for the coming years.

So the question is: Would I buy the company now? Probably not, and if only in small tranches, because if there is an economic downturn, the duration and scope are not yet foreseeable. Although the company is active in the consumer goods sector, it also carries cyclical elements. It supplies the automotive industry, for example, and even pure consumer goods are not essential products for daily life such as food or tobacco. But Leggett & Platt is a company that I will have on my watch list in a crisis.

Hugo Boss
Another very interesting company is Hugo Boss (OTCPK:BOSSY). The German manufacturer of luxury clothing has been struggling for some time, to be precise, since 2015, and external factors such as the political troubles in Hong Kong and later the Corona crisis have done the rest. Nevertheless, the company is very favorably valued. This is evident both from a comparison of operating performance with the current share price and from a comparison of Hugo Boss with its competitors. Besides, the company has again increased its dividend. At seven percent, the company now offers a considerable yield, which is quite attractive especially for cash flow-oriented investors. Besides, the company seems to be getting a grip on its operative problems.
The share price of Hugo Boss has lost enormously in value since 2015.
As I said, Hugo Boss had some problems before. Due to the excessive, very costly and not always sensible opening of new stores, profitability has dropped extremely, so that Hugo Boss had to cut its dividend for 2016 extremely. But Hugo Boss has had many successes since then. The free cash flow in 2019 was higher than ever before.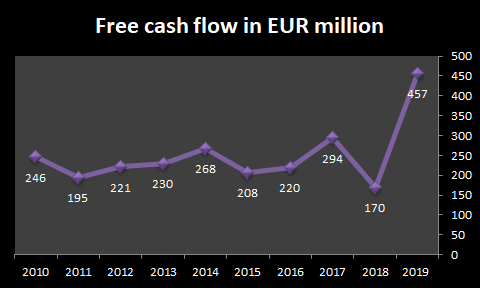 Source: Annual report 2019/graph by author
Furthermore, revenue was up by 3 percent in 2019 while EBIT (EUR 333 million) was down only 4 percent. The return on equity was 20 percent. That said, Hugo Boss generated record sales in Europe, Asia/Pacific and in the licensing business in particular. Only the American business is still very weak.

Source: Annual report 2019
Looking at the operating performance of recent years, the company is extremely cheaply valued. The company is currently trading at the same price as in 2010, but since then sales, profit, and cash flow have grown extremely fast: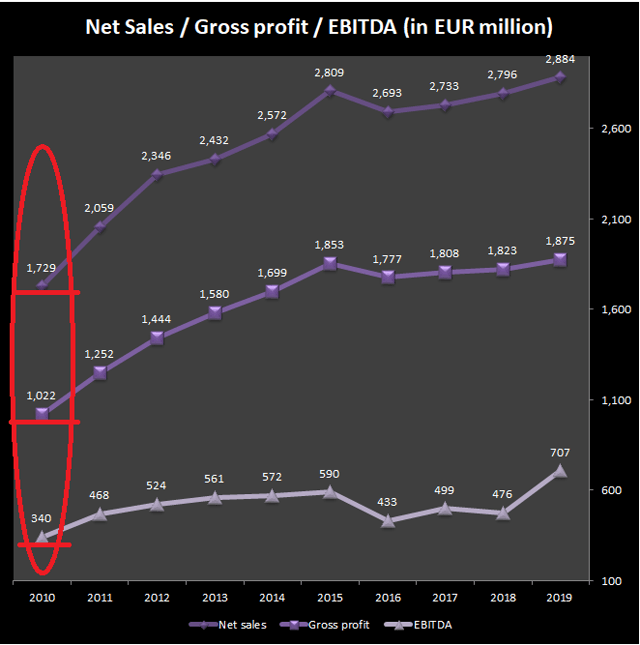 Source: Annual report 2019/graph by author
Accordingly, I now consider the company to be extremely undervalued. A comparison with competitors also supports this picture:
Added to this is a dividend yield of now over 7 percent. The dividend yield is thus almost as high as the average return of the S&P 500 and the Dow Jones. This could be particularly interesting for cash flow-oriented investors because, given the current situation and the existing price losses, it is unlikely that the Dow Jones and S&P 500 will be able to maintain their average returns.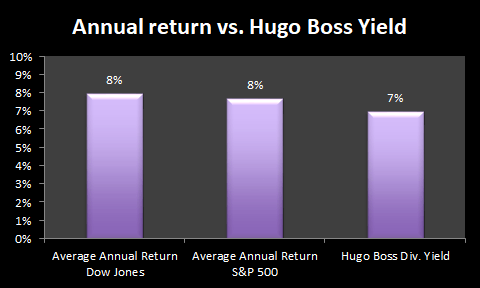 Ex-dividend date of Hugo Boss is also only the beginning of May. Accordingly, investors will receive the dividend plus the potential share price growth, because Hugo Boss share price will also benefit from an upswing. The company is also very optimistic that it will at least be able to keep the dividend stable next year, as it expects high cash flow and wants to base the dividend payment more on cash flow rather than profit. Even if Hugo Boss, with a very pessimistic outlook for next year, cuts the dividend, which was only increased this year, due to the corona effects, the return should still be well above average. Accordingly, the company is worth considering.
In the future, I will introduce other companies and long-term investment proposals. If you want to have more updates on my research, just click on "follow" next to my name. I am also happy to discuss the topics of my analyses with other investors so feel to comment under the article.
** Disclaimer: My articles represent my opinion only and in no way constitute professional investment advice. It is the responsibility of the reader to conduct their due diligence and seek investment advice from a licensed professional before making any investment decisions.**