Including The Family-Owned Criteria Into Due Diligence
This European champion meets the criterion
Introduction
There are countless ways to invest. For investors, it is always in the foreground to increase their own assets as quickly and as risk-free as possible. However, the fact that the risk correlates with the opportunities lies in the nature of investing. Nevertheless, many investors try to adhere to certain methods or criteria according to which they select their own type of investment. Accordingly, there are technical analysts who try to predict the future development of the share price from past price movements using statistical probabilities. There are also value investors, trend followers and many other different investment methods. Another example is the "Dog of the Dow" strategy. 
In this article, I would like to introduce other criteria for stock selection that is traditionally not heard enough by investors. The objective is to select companies that are managed or controlled by the founding families. In this view, investors need not limit themselves to the American market. Almost half of the largest French and German listed companies have a strong family influence. Of course, there are many companies worldwide that are worth a look. Here you will find an overview of the ten biggest companies that are family-owned.

(Source: Companies that are family owned - There are a lot)
That's said, I would like to briefly prepare some theoretical background. Then I would like to give investors one example of a company where this method worked very well. Although this company has some difficulties growing at the moment, I am convinced of the long-term outlook. The valuation is, compared to its peers, also quite attractive at the moment.
Theoretical background

First of all, it is difficult to even find a definition of when a company can actually be considered a family business or a "company controlled by a family". There is no uniform definition, but it is essential that family entrepreneurs set the standard as anchor shareholders in order to exert a significant influence on the company and to be able to make strategic decisions. It is, therefore, less a question of companies and founding families having some loose connections. It must be crucial that members of the founding family are familiar with the operational business and can determine the strategic course of the company at any time, for example by electing or removing a CEO.
The theory is that family-run businesses are more successful in the long run than the average of all companies. According to this theory, the special ownership structure ensures that such companies often think more long-term than other companies. They act more cautiously in the market and work more frequently with higher equity ratios and nevertheless often achieve higher profits than large corporations.

Often decisions can be made quickly due to the special ownership structure. This allows an efficient procedure. Above all, however, family businesses think in terms of generations and not at shorter intervals. In particular, individual quarterly developments are not relevant as long as the long-term orientation is right. This long-term business policy makes it possible to advance and develop innovations in the long term. Such an approach also protects against taking too much risk too quickly. If a manager always thinks of success for future generations when making decisions, then it is not most important to produce new record results with every annual report but to successfully position the company for the long term. Given that, the Credit Suisse found that family- or founder-owned companies can generate much more profit for investors than non-family companies:
(Source: Companies that are family owned -Great performance)
In addition to higher top-line growth, the Credit Suisse found that family- or founder-owned companies generate better profitability as well: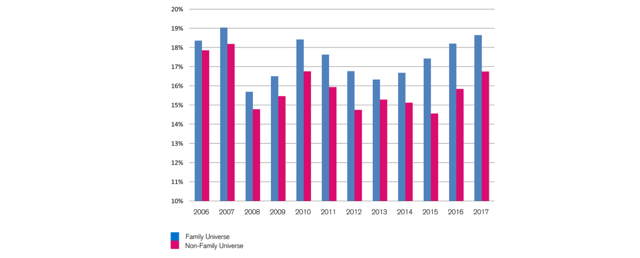 (Source: Companies that are family owned - Profitability)
There are therefore good reasons to include in your own due diligence the criterion of whether the company has a family background. Of course, this is not a generally valid indication of superior performance, but it can be a decisive argument for some investors who are looking for long-term investment opportunities.
Henkel
So well, that's the theory. Now, I would like to introduce a company from Europe that fit into the above category and is at the current valuation definitely worth another look for investors.
Given that, I want to introduce the German based company Henkel.

(Source: Henkel Logo)
The company was founded in 1876 by Fritz Henkel. Today, Henkel is a listed company with a majority shareholding held by the Henkel family (the Henkel family comprises more than 150 members). The family holds around 61 percent of the common stock. Furthermore, the family members are contractually obliged not to sell their shares outside the family. With its three business divisions "Adhesive Technologies", "Beauty Care" and "Laundry & Home Care", Henkel is one of the world's leading companies in its field:

(Source: Henkel company profile)
This is mainly due to the wide range of products that people all over the world use every day, some of which are very strong brands:

(Source: Brands in North America)
Even though the company has recently weakened somewhat, it is still on a long-term growth path: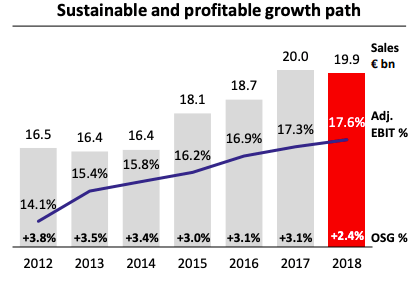 (Source: Henkel company profile)
This is also reflected in the strong share price performance and the very shareholder-friendly dividend policy. Despite the current price decline, the company has doubled its price over the last 10 years (excluding dividends).
Speaking of dividends, Henkel is a reliable dividend payer: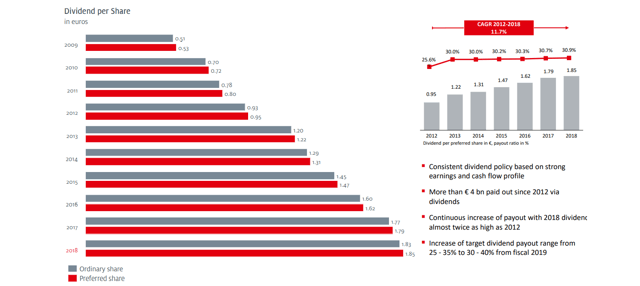 (Source: Henkel is a reliable dividend payer)
Starting in fiscal 2019, dividends will be based on a higher target corridor of 30–40 percent for the payout ratio.
Furthermore, the company is currently relatively cheaply valued. With its three business divisions, Henkel operates not only in the consumer goods market (where it has to compete with Procter & Gamble, Reckitt Benckiser, Colgate-Palmolive, and Unilever. Especially with the Adhesive Technologies, Henkel offers a wide product portfolio to the professional market. This makes Henkel to the world's biggest adhesive producer and represents 47 percent of total Henkel sales in 2018. In this market, Henkel competes especially with 3M. A comparison of all these companies shows the following: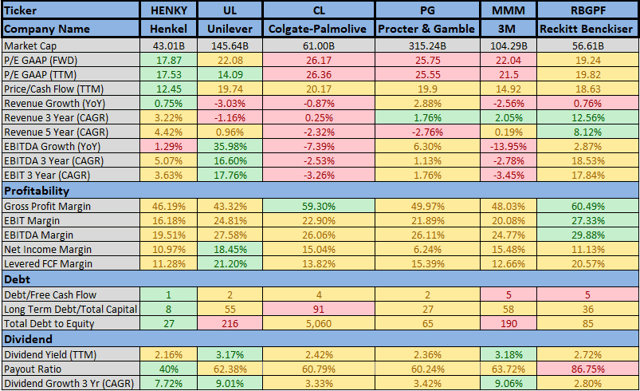 I like that kind of overview. It takes time to collect and compile the data, but then you get a comprehensive picture. Of course, you have to take into account that the product portfolios of the individual companies are not one hundred percent congruent and that the companies are not competitors in certain areas. Nevertheless, an overall picture emerges, you can see where the individual companies have problems in comparison to others and you can go into due diligence in greater depth there.
Given that, the picture shows that Henkel appears comparatively favorable from a fundamental point of view. At the same time, however, it can also be seen that this is due to comparatively low growth and falling profitability. With regard to the adhesives business, however, this is due to the cyclical nature of this division. However, there is still room for improvement in the beauty business, which continued to suffer. Here, Henkel is struggling in particular with strong competition and strong price pressure. Countermeasures such as the introduction of new products have had only limited effect to date. 
Given that, Henkel needs to invest heavily to return to growth in this segment. And this is exactly what the company does. Henkel will lift investment spending by EUR 300 million to capture growth opportunities. Of course, this will hurt EPS and FCF in the short term and explains an adjusted EPS in the mid-single percentage range below prior year at constant exchange rates for 2019. Long-term investors may, therefore, have a good time window to invest. Procter & Gamble has shown how to return to growth by investing and adjusting individual products and brands. I believe it is probable that the cautious and long-term approach of Henkel's management could also lead Henkel to similar development.
Conclusion
Of course, investors in such companies also always have to carry out in-depth due diligence before investing their money in such companies. This is because potentially far-reaching influence can also have negative consequences for the company. In addition, it should be borne in mind that historical data is no guarantee of future development. Furthermore, family conflicts or disputes over power, unresolved company succession or the dependence on the competence and capital of a few decision-makers can lead to poor operational decisions that ultimately also harm investors. 
Nevertheless, I think it is a good indication that a company that has been successful in the past is still marked by a strong influence of its founders. This is particularly true for risk-averse investors, as it is very likely that the management of such companies will also act very cautiously and rationally. I regard Henkel as a company in which investors can participate outstandingly in the success of such family-owned companies. In the current market environment, the company is definitely worth considering for a conservative investment.
Note: Henkel trades in ordinary shares that have voting rights and preferred shares. The preferred shares are therefore the significantly more liquid class of Henkel shares. Apart from the treasury shares, they are entirely in free float. While the preferred shares are traded in the German Stock Index, the ordinary shares are nearly 10 percent cheaper. Therefore, they have a higher yield too. In the USA, investors are able to acquire Henkel ordinary and preferred shares by the way of stock ownership certificates obtained through the Sponsored Level I ADR (American Depositary Receipt) program.
In the future, I will introduce other companies with a similar history to Henkel at irregular intervals. If you want to have more updates on my research, just click on "follow" next to my name. I am also happy to discuss the topics of my analyses with other investors so feel free to comment under the article.
** Disclaimer: My articles represent my opinion only and in no way constitute professional investment advice. It is the responsibility of the reader to conduct their due diligence and seek investment advice from a licensed professional before making any investment decisions.**